The Best Desk Setup for Productivity
Whether you're an office or home worker or use a desk at various times of the day, did you know that how your desk is set up can impact your productivity? A recent survey by Ipsos and RingCentral, a cloud communications company, found that worker productivity dropped to 36% in early 2023, compared to 43% in October 2022.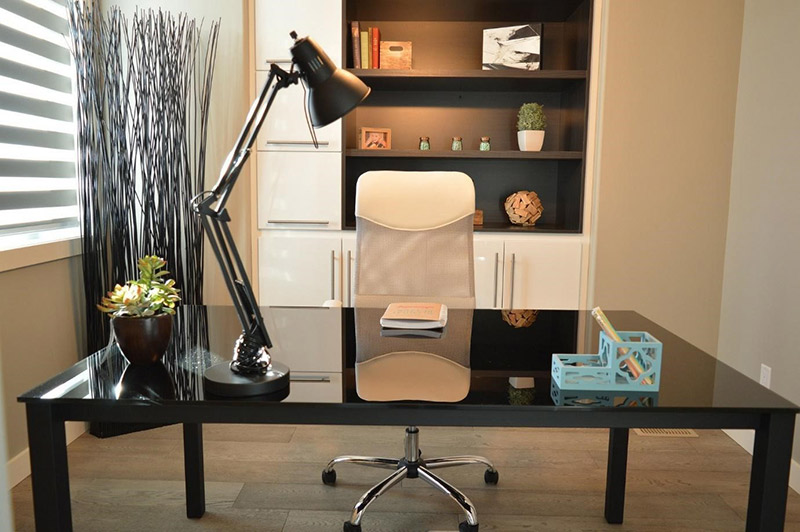 There were several reasons for this - social media scrolling, viewing emails and office chatter - but a lack of health and wellbeing support was also high on the list. Part of prioritising employee wellbeing is ensuring their desk setup is the best possible to boost productivity, especially if any work from home part-time or otherwise.
So, what must you consider to ensure all your employees, home or office-based (or both), have the correct desk setup to improve workflow and maximise productivity?
Why does your desk set-up matter?
Every person will create a desk environment that suits their job and personality. Some people like to accessorise their desks with many personal items; others like to see as much desk space as possible and will have their things stored away underneath. You may be a person that likes to sit down all day, or one that likes to stand at their desk… or both!
There has been an explosion of working from home, a necessity during the pandemic and still a trend today. Indeed, 1 in 4 UK workers have a hybrid work week, and 10% of them would like to return to full remote working. However, research by the Royal Society for Public Health (RSPH) found that 39% of people who switched to home working during the pandemic reported musculoskeletal problems; and much of the blame for this was put on a poor desk setup. That isn't surprising when you consider that most were working off their kitchen tables, in areas not set up for working and often on outdated desks or unsuitable chairs.
Top 6 tips for the best desk set-up for productivity
Whether you're working from an office or home, there are six essential elements to creating the best desk set-up, which will help you be productive.
A chair that improves your posture. Even if you choose a standing desk, there will be times when you want to sit down. For sustained productivity, investing in a high-quality ergonomic chair is a must. They are designed to reduce discomfort, increase alertness and help you stay focused on your work. Make sure the ergonomic chair you choose is adjustable to your body and desk. To set it up correctly, think about the following:

Your upper legs should be parallel to the floor with your knees at around 90 degrees (at rest), and your feet should be flat on the floor.
You should be able to rest your arms and elbows at a 90-degree angle on the desk, minimising strain on your wrists.
The chair should incorporate lumbar support to improve your posture.
When sitting down, the top of your monitor or laptop should be at the same level as your eyes. You should also be able to read the screen comfortably without leaning, hunching forward, or tilting your head.

A modular desk. These desks are designed with different flexible components to allow people to customise their workspace. For example, a standard-size desk can be adapted by adding extra length or a return to create a corner desk. In recent years, it has been highlighted that sitting all day isn't good for people for many reasons, including developing poor posture, neck and shoulder strain, increased blood pressure, blood sugar and cholesterol levels. The latest evidence from research by the University of Leicester has shown that standing desks can help improve productivity. But if you don't fancy the thought of standing all day, opt for a converter desk so you can combine standing up and sitting down.
A monitor/laptop stand. Your monitor or laptop should be at the right height to avoid any musculoskeletal issues, such as neck and shoulder pain, and eye strain. Ideally, the top of the monitor or laptop should be level with your eyes, whether you're sitting down or standing up. That is not always possible if you don't have an adjustable monitor stand you can move into the correct position. If you use dual screens, make sure you have more than one stand on your desk.
A keyboard and mouse. If you work on a desktop computer, you probably already have a separate keyboard and mouse. However, if you tend to work on a laptop or tablet, chances are you use the built-in keyboard and mouse. Ultimately, whilst it boosts ease of use, it doesn't help with the ergonomics of your home or office workstation. In fact, it could put extra strain on your arms and wrists, which will reduce your productivity levels.
Plenty of light. It's long been known that having a desk near or adjacent to as much natural light as possible is a good thing, and this is backed up by research, too. The reason is that natural light increases alertness and mood, decreases stress and tiredness, and therefore boosts productivity. Plus, looking out of the window is a great way to take a short break and give your eyes a rest from the computer screen. Not everyone can put their desk next to a window, so instead, make sure you have floor or desk lamps to light up your workspace rather than overhead lights. Desk and floor lamps can be moved and adjusted to reduce screen glare. Also, opt for bulbs that mimic natural lighting as much as possible.
A plant (or two)! No, we're not joking! Apart from the aesthetic point of view, research suggests that having live plants on or near your desk can boost productivity. That is because they aid air purification in your workspace, which reduces illness and helps you to stay focused and alert, improves your moods and reduces stress.
One other aspect that can help increase productivity is an organised workspace. So, get a desktop organiser for pens, pencils, staplers, paperclips, post-it notes and other daily office supplies. In addition, make sure you have storage space beneath your desk for folders, rulers and other office items you don't use daily.
ESE Direct has recently added to our range of office desks, reception furniture, office and meeting room chairs and other office accessories. For all your office workstation and workspace needs, head to our website to find your best productivity-boosting desk set-up. With more than 40 years of knowledge and experience in the industry and exceptional customer service, you can trust ESE Direct. Call us now on 0808 274 9657.

Author Bio -
Debs
Digital marketer, social media, content writer, musician, sloth-lover, tea-drinker.