The General Purpose Wheelbarrow
Now spring has officially sprung (although no one seems to have told the weather) which means you will be spending a lot of time out in the garden making sure it's looking blooming lovely (geddit?) in time for summer!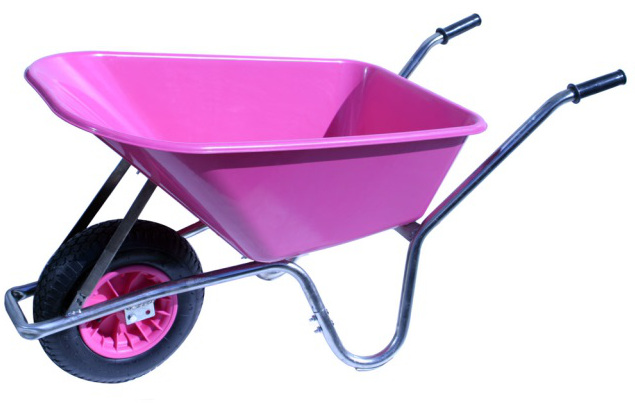 One of the main tools for transitioning your garden from desolate winter waste land to a summery oasis of joy is the wheelbarrow.
The wheelbarrow is designed to distribute the weight of the load it is carrying between the wheel and the operator. This means that heavier or bulkier loads which would have been impossible to carry by hand are now easier to manoeuvre.
Our general purpose plastic wheelbarrows are great for garden and DIY tasks such as carrying soil, plants and sand. They come with a 120kg (90litre) capacity and feature solid steel skids to protect the frame legs from wear.
The wheelbarrows themselves are available in a pneumatic tyre or a puncture proof tyre (stones and thorns do not discriminate) so whether you are planning on using your wheelbarrow over rough terrain, or just want to make sure your gardening session doesn't get cut short by a puncture, we have a wheelbarrow to suit your needs.
The wheelbarrows are available in a choice of rainbow colours, including: pink, blue, green, yellow, red and black.

If you order the puncture proof tyre it will not be colour co-ordinated to the wheelbarrow's colour (unless you order the yellow one).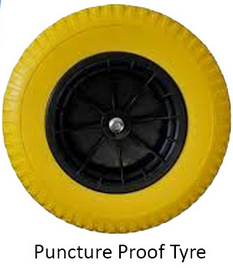 The pneumatic tyres will co-ordinate with the colour of the tub as you can see above.
The wheelbarrow is delivered in kit form so some assembly is required.
If you do have any questions regarding our wheelbarrows (or anything else in our product range) please do not hesitate to contact our knowledgable sales team on 0808 163 3704.

Author Bio -
Laura Holland
Social Media and Web Content Coordinator, Jan 2014 - May 2015