Wheelchair and Access Ramps
As part of the Disability Discrimination Act (DDA) of 1995, it is becoming more and more important for businesses to make sure that their premises are accessible.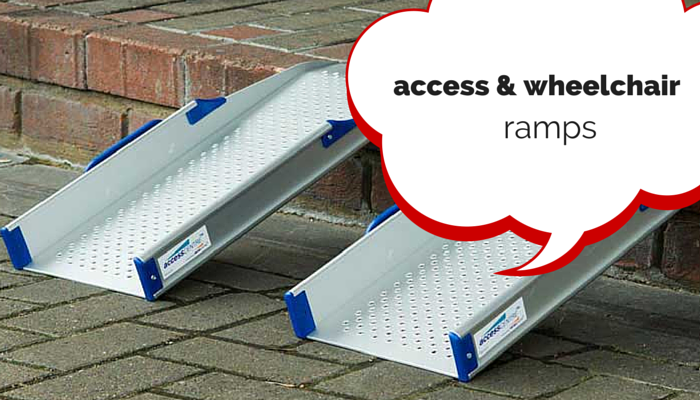 This isn't always easy for some where they may be based in old buildings which weren't built with disabled access in mind. Which is why access ramps are a great and cost effective way to be compliant with the DDA regulations especially where a refurbishment or renovation may be out of the question. There are a vast range of ramps and access aids available, we will take a look at the most popular that we supply.
Disabled Access Kerb Ramps
These are probably one of the most common sights you will see in day to day life, there are several types of these available made from different materials and ranging in different sizes.
These are the easiest and simplest to use, simply place in front of the kerb you want to access and you are done. The great thing about these particular ones is that they can be interlinked, so if you needed a larger access area for more than one wheelchair or perhaps even a vehicle it's available in seconds.
These ramps are made from anodised aluminium construction which gives them the hardwearing durability you would expect. They are a bridge version of a ramp which can be used for low steps or kerbs with obstructions directly under which would make the wedge ramp hard to use. These are ideal for wheelchairs or trolleys so also offer versatility to businesses.
Disabled Access Ramp
This ultralight telescopic wheelchair access ramp is incredibly versatile, and can be lengthened out to 2.88m and is ideal for gaining access to vehicles and has a capacity of up to 250kg (per pair).
Similar design to the telescopic wheelchair access ramp but designed purely for easy access over kerbs and steps, they feature raised side to stop the wheels coming off the edge.
Disable Trackway Rubber Matting
If you are based somewhere that has uneven ground, or a lot of gravel or grass it can be problematic for wheelchairs and trolleys alike.
That's where this great
trackway rubber matting
comes in handy, roll out to the desired area and the wheelchair or trolley can pass over it
Disabled Utility Ramp
The
utility ramp
is very versatile, originally designed for more commercial purposes it can be used to aid access for wheelchairs with up to 400kg capacity.
It is heavy duty so incredibly durable and is sure to be an indispensable bit of kit to have on hand.
If you have any questions regarding any of our access ramps, or any of our products, please do not hesitate to call our customer service team on
0800 161 3436
.

Author Bio -
Laura Holland
Social Media and Web Content Coordinator, Jan 2014 - May 2015