Our quirky resident dragon, George has become quite the dragon about town. He just so loves getting out and about in the fine city of Norwich.
Lately, George has adopted a slightly more unusual mode of transport, that of a recycled tapered truck. He's still a young dragon and hasn't yet learned to fly. Being the bespoke character that he is, he's rather more suited to the ground than the skies anyway!
George will be starring in a series of adventures around Norwich, all of which will be available here on his blog. So, where better to begin his journey than George Street?!
Where's George? Episode 8 - Sunshine in Southwold
Episode 8 of Where's George? sees our unique little friend crossing the border into the beautiful county of Suffolk. George chose a crisp, bright Winter day to visit the famous seaside town of Southwold. Complete with its Lighthouse, Lifeboats, Pier and some of the most expensive beach huts in the country, George delighted folk as he whizzed around in his tapered truck.
Where's George? Episode 7 - Great fun in Great Yarmouth
George enjoyed his visit to the seaside so much that he asked to explore another seaside town, thus he set of to Norfolk seaside town, Great Yarmouth.

Our unusual dragon, had fun whizzing along the Golden Mile, taking in the flashing lights of the amusement arcades and tempting smells of chips and doughnuts! He popped into the Marina Leisure Centre, Sealife centre and circled the Hippodrome Circus. Waved at passers-by on the Britannia and Wellington Pier with his highlight being riding the iconic snails rollercoaster at Joyland with his PA!
Where's George? Episode 6 - Cruising around Cromer
We thought it was time our fire-breathing friend ventured a little further afield. So, with that in mind off we went to the stunning North Norfolk coast and pretty seaside town of Cromer.

It was a beautiful sunny June day but with a bracing sea-breeze which ruffled George's monobrow somewhat, especially on the clifftop! But be assured, we didn't allow him to wheel too close to the edge! He was looking forward to visiting the Grade II listed iconic wooden pier and Pavillion Theatre which is located at the very end of the pier. He waved a wing as he whizzed down the hill and passed the Henry Blog RNLI Museum much to the amusement of passers by. Progressing along the promenade he watched fun at the Dunes Amusements and then headed back up the cliff to the town centre where he visited Jarrolds, the North Norfolk News office and the Cromer Museum.

Having enjoyed a very busy day we couldn't let George miss the opportunity to sample a yummy portion of chips from Mary Jane's Fish Bar followed by a cheeky 99 ice cream! What a lucky dragon!
Where's George? Episode 5 - Spring into Norwich 2017
Following what feels like a long winter, the sun is finally shining once more over the city. Spring has sprung, happy yellow daffodils are showing their faces, leaves are appearing on the trees and George is enjoying the warming sunbeams on his monobrow. George parked his truck in Rose Lane car park, winner of British Parking Awards' 'best new car park' title! Headed off to Prince of Wales Road and then waving at his friends at Face to Face Finance.

George loves hanging out at the popular spots, hence his visit to The Union Building, now a hub full of funky, fashionable businesses, also sports the city's coolest new haunt - the rooftop bar! He spotted BC (children of the 1980's will remember him and his Birthday Club along with Norwich's Helen McDermott?!) in the window of ITV studios before whizzing down the hill past the old Barclay's Bank, now fantastic events venue, The Open. He dropped by the First Bus Travel Centre and caught up with his GoGo Dragon friend, Fun Square. A city steeped in history, Norwich's castle provides fabulous views across the rooftops, (no need worry about staying warm while up high when you're a fire-breathing dragon!), and of course Norwich catholic cathedral built in 1096 where George finished his Spring stroll.
Where's George? Episode 4
It's Christmas 2016 in Norwich and George had a whale of a time. He whizzed through the stunning tunnel of light and zoomed across The Forum, where he was incredibly lucky to see the Coca Cola truck! It was a little bumpy over the historical cobbles of the Norwich lanes and he navigated the slalom of the Jarrolds' decorated columns like a pro! The laser projections on City Hall and Norwich Castle looked amazing. What a fine city.
Where's George? Episode 3
In episode three, George travelled a little further afield and explored the lovely city greenery that is Eaton Park. By-passing by the boating lake, mini-golf and football pitches, he was very brave and took to the ramps and slopes of the skate park like a true professional, even if his monobrow did get a little ruffled.
Where's George? Episode 2
Time for episode two of dragon about the city. With so many delicious eating establishments available, George had a quick recce outside the main entrance to popular shopping centre, Intu Chapelfield. Would George go for Wagamama? Giraffe? Sushi? or ASK Italian? We think he's more of a flame grilled Gourmet Burger Kitchen kind of chap. Moving over to the fabulous Forum and waving a wing past the Norwich City Council offices at City hall he then ventured to a couple of creative venues, The Garage and the Theatre Royal Norwich, whilst always observing the green cross code! He completed his journey with a spot of afternoon tea at The Georgian Assembly House. How civilised.
Where's George? Episode 1
George zoomed down the hill past medieval St Andrew's Hall and took a bit of a spin outside the Norwich Art School. He motored on to wave a rubbery wing at his friends in St George's Music Shop and then nipped around the corner to the lovely Grade I listed St George's Church, Colegate, the old haunt of his charming friend Gloria GoGo Dragon. Heading back towards the city saw him putting on a show outside Norwich Playhouse.
Never fear, George's truck has been thoroughly tested and approved for safety by our industrious furry friend, Health and Safety Bear.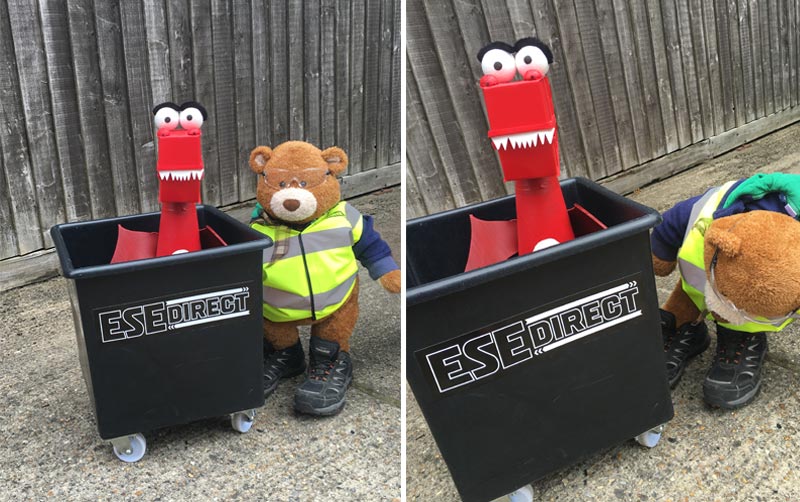 If you would like to appear in one of George's future adventures and for him to whizz past your workplace please do get in contact and we'll endeavour to make some room in his diary! Email George's PA, Debs, on [email protected] or drop us a tweet @esedirect. We'd love to hear from you.

Author Bio -
Debs
Digital marketer, social media, content writer, musician, sloth-lover, tea-drinker.