White De-Icing Salt or Brown Rock Salt?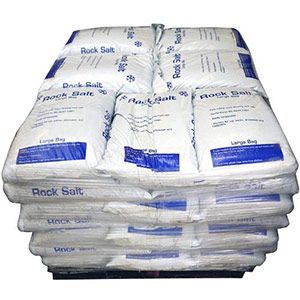 As winter approaches it is essential to stock up on de-icing products such as rock salt to keep your property safe during cold snaps. There are a few choices available such as de-icing chemicals, white de-icing salt and brown rock salt, and knowing the best product to use can improve safety as well as save you time and money.
Many people are unsure whether to purchase white de-icing salt or brown rock salt. Both de-icing salts consist mostly of sodium chloride. They are both excellent products to use to prevent the formation of ice on roads and pathways and can be used with mechanical spreaders to cover large areas such as car parks. They are best used to prevent snow from settling and ice from forming.
Brown Rock Salt
Brown rock salt contains more impurities than white de-icing salt. Because of these impurities, brown rock salt leaves a gritty residue when it dissolves. While this may not be aesthetically pleasing, it does provide additional traction underfoot. It is also clear where brown rock salt has been applied because it is easily visible on white snow and ice.
Because of the additional traction provided by the grit and impurities, brown rock salt is usually the preferred choice when heavy snow is predicted or in particularly icy conditions. Purchase brown rock salt which complies with British Standard BS3247 in order to guarantee purity.
Benefits of Brown Rock Salt
Impurities and grit provide increased traction underfoot
Slight cost advantage over white rock salt
Disadvantages
Leaves a messy residue
Not as effective at dissolving ice and snow as white rock salt
White-De-icing Salt
White de-icing salt is purer than brown rock salt and it contains a higher proportion of sodium chloride; the salt which melts snow and ice when it dissolves. White de-icing salt can be easily spread over light to moderate snow and ice cover and it quickly dissolves. When dissolved it melts ice and snow and decreasing the freezing point of the water to prevent ice from re-forming.
White de-icing salt leaves no residue and it cannot be seen once it has been spread on snow and ice. It is best suited to areas where hygiene and cleanliness are important such as retail outlets, schools, hospitals and is ideal for domestic use. When purchasing white de-icing salt look for products which comply with BS3247 to ensure high purity.
Benefits of White De-icing Salt
Melts snow and ice more quickly
Leaves no residue and does not discolour snow
More environmentally friendly
Disadvantages
Slightly more expensive than brown rock salt
Cannot be seen once applied
Because of it's environmental friendly properties and it's better ability to melt ice, this winter we've decided to supply white salt this winter, available in cost effective pallet quantities of salt.
An alternative to spreading rock-salt is to apply de-icing liquid. One single application will prevent the formation of ice for up to 48 hours. De-icing sprays are very fast acting, although they are considerably more expensive than rock salt. They are best suited for domestic use and small areas.
Whichever de-icing products you choose, be sure to stock up in plenty of time for winter. Order rock salt early and be prepared, and you will ensure that your home and business are kept safe and ice free this winter.