Why should Access Ramps be used?
The principal reason why access ramps should be used is the Disability Discrimination Act 1995, which aimed to put an end to the difficulties and discriminations that people with disabilities face in day to day life. The DDA means that people with disabilities now have rights in the following areas:
Places of employment
Places of education
Public places including transport
Social areas, services and facilities
Property areas
As a result of this Act, it is becoming more and more unacceptable for areas such as workplaces and offices for example to have not taken steps to enable access for disabled people. As a result of this, we have a wide range of access and wheelchair ramps available, which are constructed to an excellent high quality and will assist in increasing accessibility for disabled people.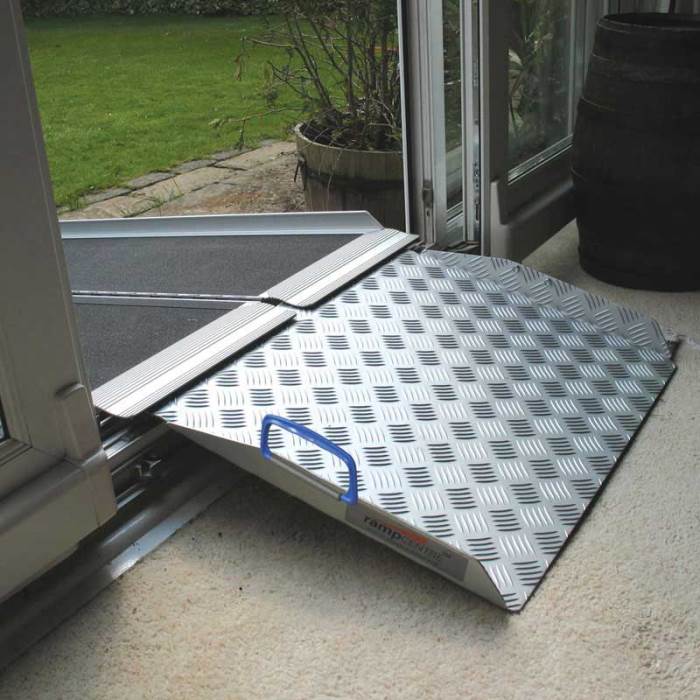 Uses for Access Ramps:
At the entrance to many public and private places, the presence of one or more steps can cause difficulty for people with disabilities, so the main areas where access ramps will be used is at doorways and entranceways. However, they can also be useful for:
Doorsteps
Kerbs
Uneven surfaces such as inclines / declines
Entry or exit from public transport such as buses

Types of Access Ramps:
Ramps – traditional shape ramps designed to overcome steps and thresholds
Wheelchair Ramps – instead of a single ramps, these come with two channelled tracks to allow safe transport of wheelchairs over steps and kerbs
Utility ramps, which can be used for industrial purposes as well as wheelchairs
Motorbike ramps
Vehicle loading ramps
Heavy duty kerb ramps (suitable for vehicle traffic)
Trench covers (to enable pedestrian and light vehicle safe access of excavations

Access ramps construction:
All of the access ramps in our range have been designed to provide maximum accessibility but also maximum ease of use and safety as well. Other notable features include:
Being quick and easy to deploy and use
Lightweight construction to enable them to be moved around simply
The access ramps are designed and constructed to be able to withstand regular loads
Many variants in our range can be folded or retracted for practical storage



Author Bio -
Tim Bailey
As ESE Direct's Marketing Assistant, I get involved with working on web content, catalogue pagination and social media. I am a huge motorsport fan, and love spending free time with family and friends.