When deciding which Workbench type you need you should consider how you are going to use it. This will usually determine what type of worktop you will need.
Type of Work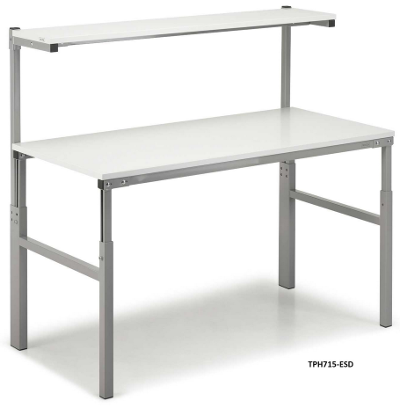 If you are working on electronic components you should consider "static control". There are a range of ESD Workbenches which can dissipate electrostatic charge. These benches usually have a Lamstat or Norastat worktop.
The Lamstat worktop is a laminated product with dissipative properties and a hard surface. The Norastat worktop is similar to the Lamstat version but with a softer more grippy surface.
If you are working on heavy items, possibly in an engineering environment you should consider a workbench titled "Heavy Duty". This type of bench might have a steel plate or a laminated worktop. You should select the worktop to best suit the products/materials that will be worked on. The steel plate top will stand up better to metal items. If you would prefer a less industrial look a laminate top may give a nicer surface to work on.
If you are working with wood you should consider our "Heavy Duty Wooden Bench" range. A wooden top makes a better work surface when using woodworking tools.
Lower cost benches are available in our "Economy Kit Form Bench" range. The economy benches usually have a chipboard worktop. These benches are made from clip-together components which helps to reduce cost but still allow a reasonable loading.
If you need to be able to raise or lower your bench this can be done with our Height Adjustable Workbenches. This type of bench can be really helpful when the operator has to work on different height products or if the bench will be used by taller and shorter operators.
The next thing to think about is your ideal size and the weight capacity.
Size and Capacity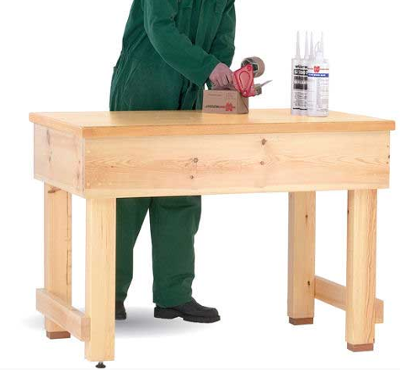 The width range from 900mm up to 2400mm and the depth (front to back) from 900mm deep (1200mm for wooden benches). The most common height for a workbench is 840mm but may allow you to select taller or shorter options.
Lighter duty benches can hold up to 200Kgs when the load is evenly distributed across the top and heavy duty benches up to 1200Kgs when the load is evenly distributed across the top.
Some benches give the option of having a standard four leg design for lower cost or cantilever legs (rear legs only with the top supported by a cantilevered bracket) which can be easier to use without the obstruction of the front legs
Accessories

General Purpose and ESD Workbenches have the option of adding the following accessories –
Short or tall rear support posts which allow you to attach above bench accessories.
Worktop mounted service ducts which can provide electrical supply or point for an RCD (residual currant device).
Rear panels for tools or plastic containers.
A fluorescent light unit which will require a light frame.
Single, double, triple and quadruple drawer units and cupboards can be mounted under the bench worktop.

Author Bio -
Laura Holland
Social Media and Web Content Coordinator, Jan 2014 - May 2015