840mm High Open Mailroom Workbench with Lower Shelf
Designed for use in post rooms and offices
18mm MFC worktop with round edges for safety and a scratch resistant surface
Height adjustable feet supplied on all mailroom workbenches
We also offer a range of mailroom workbench accessories are available including cupboards, drawer and post lockers
Delivered in knock-down form for assembly onsite
Available with back, side panels:
Code
Bench Type
Worktop
Dimensions
H x W x D (mm)
Price
ex. VAT
MR841275SLXX
Open Bench
with Lower Shelf
18mm MFC
840 x 1230 x 750

MR841290SLXX
Open Bench
with Lower Shelf
18mm MFC
840 x 1230 x 900

MR841575SLXX
Open Bench
with Lower Shelf
18mm MFC
840 x 1530 x 750

MR841590SLXX
Open Bench
with Lower Shelf
18mm MFC
840 x 1530 x 900

MR841875SLXX
Open Bench
with Lower Shelf
18mm MFC
840 x 1830 x 750

MR841890SLXX
Open Bench
with Lower Shelf
18mm MFC
840 x 1830 x 900
Open mailroom workbench with lower shelf in a choice of sizes
Its height remains a constant 840mm, but several sizes (width and depth) of this useful workbench are available to ensure that it fits perfectly into the space of any mailroom or office. Available depths include 750mm and 900mm, while there are three different widths: 1230mm, 1530mm and 1830mm.
With a work surface made from melamine-faced chipboard (MFC), this workbench will look as good as the day it was purchased, even after months of use. Melamine is a scratch resistant, man-made laminate that is used to protect surfaces. The MFC is nearly 2cm in depth (18mm to be precise), so it will not cave in or buckle during use.
This piece of office furniture is delivered flat, and simple instructions make it easy to assemble on delivery.
The 840mm High Open Mailroom Workbench with MFC Worktop and Lower Shelf can be accessorised in a couple of well thought-out ways to meet the office's needs. The legs provide an opportunity to raise or lower the bench to a suitable and safe height for workers, and, if requested, sides and backs ensure that the spacious shelf on the bottom can be open or closed to the outside. If butted up against a wall or another desk, a back panel can prevent important items from being lost on the floor between desks.
As part of a wide selection of useful office and mailroom furniture and accessories, this workbench will match any other items chosen from the same range, ensuring the office looks stylish, while maintaining its functionality.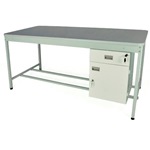 Open mailroom workbench
Delivery & Returns
Delivery Charges
Free UK mainland delivery on orders over £45 ex.VAT.
Orders under £45 ex.VAT - £4.50 delivery charge.
Postcode exceptions: HS, KW, ZE, IV, AB, DD, PH, PA, GY, JE, IM, BT, Isle of Anglesey, Isle of Wight and Eire.
Standard deliveries are Monday to Friday 8.30am to 5.30pm to the GROUND FLOOR or KERBSIDE only (unless previously agreed in writing).
We are unable to confirm exact delivery times, but we can usually confirm a day if you let us know in advance.
Saturday deliveries, timed AM or PM or above ground floor deliveries are available at extra cost.
Oversized products requiring a crane or hiab offload may incur an additional charge.
Contact us for more information.
Estimated Delivery Times
Lead times are displayed in working days, which excludes weekends & bank holidays.
During these unprecedented times, occasionally we are experiencing unexpected delays. If you have not received your item within the lead time shown please contact us and we will look into it as a matter of urgency.
Stock levels change daily, if you have a specific delivery requirement please contact us and we will do our best to help.
At the time of delivery
An authorised person must be present to sign for delivery.
Failed attempts may result in a return delivery charge.
A request to leave goods without signature is entirely at your own risk.
Please check your delivered goods carefully.
ESE Direct cannot accept claims for shortage or damage after goods have been signed for.
The only exception is proof of a carrier note that is marked as damaged.
We must also be notified in writing within 24 hours of the delivery.
Please do not sign for any goods as 'unexamined' or 'unchecked' as carriers will not accept liability for any subsequent damage.
Problems with Deliveries
Nobody is perfect, unfortunately damages & mistakes happen.
In this case, please email customer services on [email protected] as soon you receive your item (including a photo would really help speed things up).
Or call Customer Services on 0800 161 3437 and we will deal with you as a priority.
Packaging
As part of our commitment to the environment, much of the packaging we use can be recycled.
No customer questions yet