Sneeze Screens
Looking for bespoke hygiene screens? We can supply!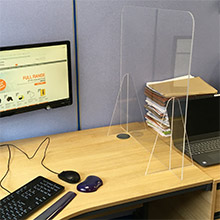 Give our friendly sales team a call on 0808 250 0780 and let them know your requirements.
---
Protect staff and visitors from viruses with a sneeze screen
When you're in an environment where a lot of face to face contact happens, for hygiene purposes you may want something to pop in between you and another person.
You might worry that creating a barrier in between you and your colleague or a visitor would mean it's a barrier to communication. But with worry not.
Sneeze guards are mostly manufactured from clear materials which means you can see through them, just as well as if nothing was really in the way at all.
Placing hygiene screens on your desk or at a reception, helps minimise the spread of germs and droplets which may travel in the air due to coughs and sneezes. Nobody wants debris from a surprise cough unpleasantly, landing in their face.
Since the outbreak of the Coronavirus Covid-19 virus, the need to provide a barrier and distance between individuals has become ever-more apparent.
Sneeze guard screens for your workplace
Sneeze guards come in a range of shapes and sizes. They're transparent so that you can see through them yet create a more hygienic environment in the manner of a divide that can be easily cleaned. Hygiene screens can be simply wiped down with an anti-bacterial spray.
Desk hygiene screens to make office working safer
Free-standing desk screens are an effective way of adding a little extra social distance between co-workers. They tend to be lightweight and portable so are versatile in terms of being able to place them exactly where you need them.
It is essential that we do all we can to prevent the spread of airborne viruses.
Counter-top protective screens can be placed at checkouts in shops, at ticket booths and on reception desks. These screens have cut-outs at the bottom which allow for transactions such as payments to be made but protection remains at face-level in case of a sneeze that catches you unaware.
Countertop sneeze screens are available in standard sizes to suit a range of circumstances. Using them along with hanging protective screens in supermarket aisles can create an additional barrier in areas which can become rather congested. These preventative measures will help to protect both staff and customers.
The use of sneeze guards and screens in public places also helps to provide a safer feeling to an environment. Busy public areas can be the cause of anxiety, not just during a pandemic. So creating an atmosphere which feels safe and hygienic, not only keeps people safer, but happier too.
Safe environments are better for business
In terms of good business, if you can provide visitors , customers and staff with a good user experience they will be more likely to stay loyal to your company. Good customer service doesn't just mean a helpful member of staff on the end of the telephone. Excellent customer experience is what you should be aiming for for your business to flourish.
It's inevitable that you will be in the office, DIY store or local supermarket waiting at the counter, sneeze erupts and you duck for cover. But hopefully, if screens are installed in optimum locations, the risk of you contracting a disease from airborne particles will be dramatically reduced.
All cough and sneeze screens are available with free delivery, with some options available within 1-3 working days. If you're looking for bulk quantities or are in a real hurry for any of these hygiene screens, please give our sales teams a call on 0808 163 3577 and they'll do their very best to help.