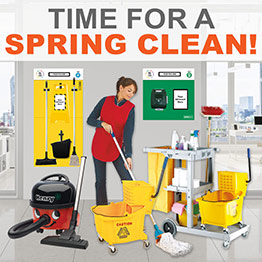 Perfect products to spruce up your workplace
It's the time of year when the days are getting longer and a little warmer. And it's the ideal time to get going on some of those spring cleaning and tidying projects.
There's everything from versatile cleaning trolleys which enable you to carry everything you need with you when on the move, to brooms, rakes and blowers to deal with fallen leaves. Even a full range of pressure washers and vacuum cleaners for a thorough cleanse inside and out. So whether you're planning on a thorough floor clean, garden clear-up or a good old-fashioned litter pick across your business premises, you'll find everything you need right here.
Cleaning Trolleys
Outdoor Tidying
Garden Maintenance
Vacuum Cleaners and Sweepers
Janitorial Equipment