An Essential Guide to Camping
June 2015 is camping month so we thought we'd provide a little insight into the do's and don'ts and things that you might like to take with you on your al-fresco summer breaks.
Whether you are a seasoned camper or simply considering grabbing your sleeping bag and stepping out into the unknown territory of becoming a resident underneath the canvas, there are many things to take note of before heading off to your field of choice.
Things to remember
Toilet roll
Often taken for-granted, you will soon understand, this simple commodity will become your best friend.
Ear plugs
You may not be attending a festival like up-coming Glastonbury or Latitude but you'll be surprised just how thin canvas can be when it comes to noise. We don't all wish to be woken by our feathered friends as they serenade us with their dawn chorus at 5am. Or of course, you may be sharing a tent with a snoring friend!
Warm and water-proof clothing
Don't be fooled by the sunshine! Especially when holidaying in the UK - we all know how unpredictable the British weather can be, it's advisable to pack a nice warm fleece and some BIG socks. For night-time there's always the ever-popular phenomenon that is 'the onesie' although consider the possible complexities of midnight trips to the loo with a torch when selecting this option. A water-proof jacket with a hood is another essential - it's also a great way to hide that shabby-chic hair-do that you will see a-plenty at festivals.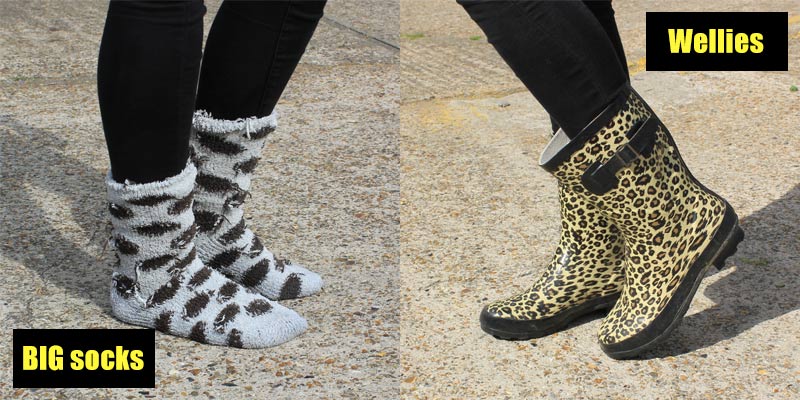 Wellies
An essential for keeping your feet dry, and they now come in all colours and designs, with popular brands such as Hunter and Joules hitting the catwalks, you can stand apart from fellow campers and make an individual fashion statement. You can even team them up with the aforementioned BIG socks.
Sack Barrow
To carry everything! It's amazing how much you can fit on a sack barrow, they range from heavy duty barrows through to the collapsible variety - these are perfect for camping as you can fold them up and store them in your tent. When travelling by car arriving at a new campsite you can't be sure just how far away you may have to park from the tent field. Using a folding sack barrow to carry everything is a great way of ensuring you don't drop your mugs in the mud!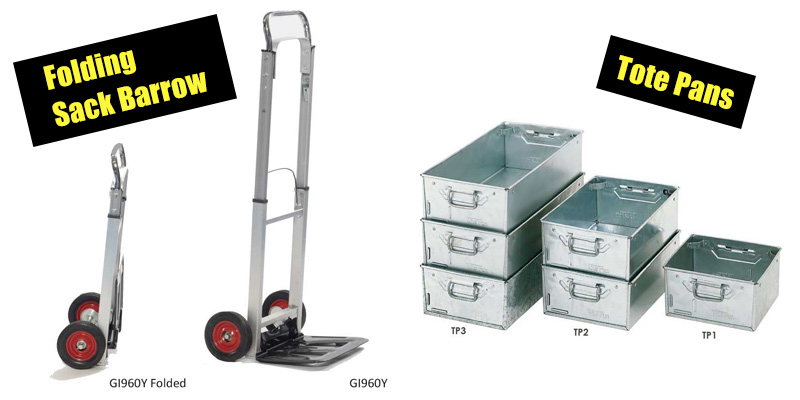 Tote Pan
Why not ditch the Dixie and try a Tote?! Bored of the conventional Dixie cooking pot? Consider swapping it for a trendy tote pan - when you're not using the tote pan for cooking, it can double up as a handing storage container for your cutlery and crockery.
Rubber Base Post and Chain Kit
Create a unique look and stake claim to your patch of grass using a nice bright post and chain - these can also be useful as a marker to help you find your tent in the dark when you're on your way back from watching your favourite band at a festival or sleepily heading back from a midnight loo-trip. It's amazing how tents can look incredibly similar when all together in a field.
First Aid Kit
The likelihood of getting a cut or graze while camping is much greater than in most people's daily routines due to your natural surroundings. It's wise to be prepared and carry a first aid kit, they come in travel versions which don't take up too much room but are there to help in those moments when you go 'Ouch'.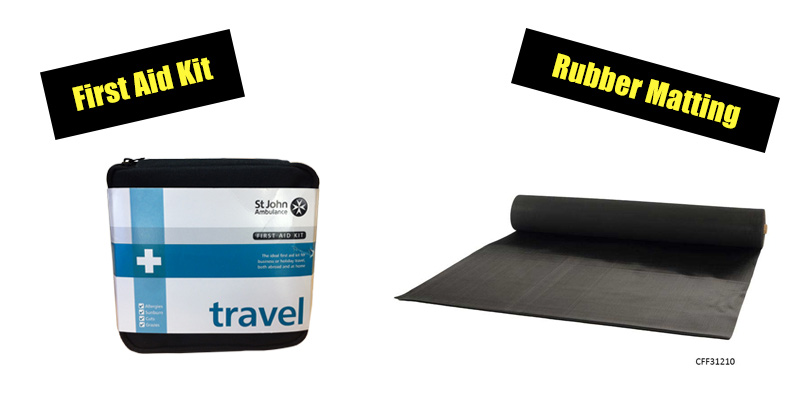 It's lovely and comfy to lay on in your sleeping bag and can double up as a make-shift den if you so feel the need to hide from somebody. You could also use it like a picnic blanket, but unlike your regular tartan woolly type, this one will keep your bottom dry!
Water
It's important to stay hydrated. Most camp sites provide drinking water taps but these might be a walk away so it's prudent to pack a couple of bottles of water or other liquid refreshment to quench your thirst while you pitch your tent.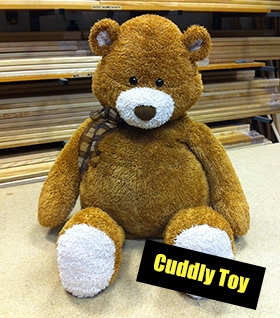 Cuddly Toy
Well, ok it's not an essential but he could double up as a pillow, tent security (ahem), or just something to cuddle on a chilly evening (call us soppy).
There are so many beautiful places to choose from for your camping holiday, both here in the UK or abroad, be it a cosy winter trip to Scotland or a sunny summer break near the coast the possibilities are endless, but the basic equipment required remains the same. You can always check out The Camping and Caravanning Club for their list of approved camp sites. As for things to do away from the camp field, why not check out the National Trust, many of their historical sites have free entry. What's not to like?
PS. Don't forget your tent!
Happy camping, campers.

Author Bio -
Debs
Content, marketing, social, graphic design and PA to an unusual small red dragon.