Now the sun is out and the tour de France is in the news, it's no surprise that record numbers of people are digging the bike out of the garage and hitting the road.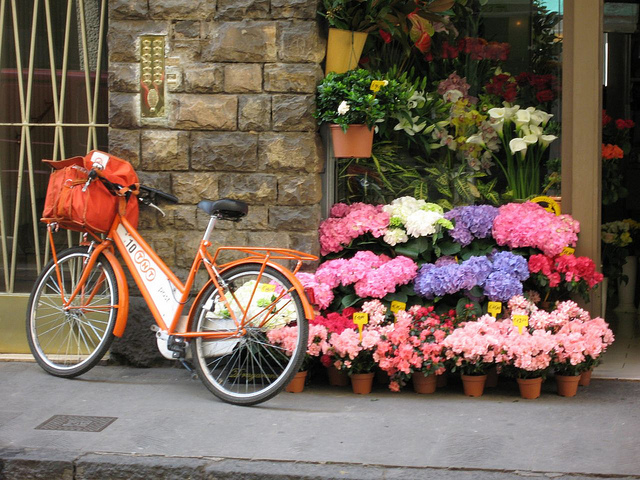 Last weekend, I even tried to join the crowd by untangling my bike from a shed full of hosepipes and paint tins, only to have it turn round and attack me (it was a 'vicious cycle'… I'm here all week, comedy fans).
June 14-22nd this year sees 2014's Bike Week. It's the biggest nationwide cycling event in the UK. It helps to motivate people to take part and think about how they make their everyday journeys; after all, cycling is one of the most convenient ways to get around.
So even if you don't suit lycra and don't have the benefits of a velodrome in your back garden, you can still get involved.
There are hundreds of events across the UK to celebrate, from Edinburgh Festival of Cycling, Women's Bike Ride in Leeds and Bristol's Biggest Bike Ride. You can find a full list of the bike week events here.
You can register for Bike Week online, and doing so means you get a free tailored event organiser guide (small, medium, large or a special guide for offices and schools), you get posters, downloadable resources and will also be eligible for free public liability insurance. Not only that, but your event will be searchable on Bike Week's national online directory of events.
If you are taking part in Bike Week, don't forget to get involved over on Social Media, you can follow and like Bike Week on Facebook and Twitter, join in using the hashtag #bikeweekUK.
If you are looking to create a safe place to store your bike then it may be worth having a look through ESE Direct's cycle range, we have;
Whether it's for your home, a school or an office, we have a wide range of racks to suit a few or dozens of bikes. You can choose from floor racks, ramps, single and double sided bike ramps and hoops so you are bound to find something to suit your premises and needs.
Cycle Shelters
With a variety of shelters you can protect bikes against wind and the typical British weather, these are ideal for schools, colleges and offices or anywhere there is a need to store a large number of bikes at once.
Secure Bike Compounds
You can add a bit more security with a compound, our stylish covered compounds features a lockable gate to ensure that bikes are kept safe and secure, whilst protected against even the harshest of weather.
So there is no excuse, get out there and get pedalling, even if, like me, you haven't owned a decent bike since you were in higher education (a 'uni-cycle'..? last one, I promise).
If you do have any questions please do not hesitate to call our friendly and award-winning sales team, many of whom cycle to work every day, on 0808 163 3704 or chat online using our LiveChat! service.

Author Bio -
Martin Gilmour
Marketing Manager for ESE Direct, in my spare time I enjoy reading, playing music and near-total avoidance of DIY.