BioCote Protected Stormor Shelving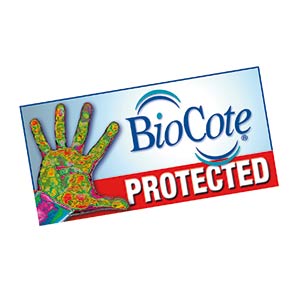 Long Term Protection
The anti-microbial agent provided by BioCote® remains constant at the surface, interrupting and destroying cells' ability to function, grow and reproduce. It has been shown to inhibit the growth of organisms such as E.coli and MRSA, thus forming an effective part of good hygiene practice.
The anti-microbial efficacy of BioCote products has been tested against a wide range of gram positive and gram negative bacteria, as well as fungi, and this function has been used extensively in many sectors as an excellent anti-microbial with low toxicity against non-target organisms. Long-lasting protection is offered in two distinct ways:
BioCote does not function in the same way as antibiotics and there is no evidence to demonstrate that bacteria have become resistant to

BioCote

as they can to some antibiotics.
BioCote does not deteriorate and therefore remains effective for the standard life of the painted surface.
This reduces the risk of Stormor Shelving users bringing contamination into hygiene critical areas such as food processing, preparation and serving points and patient care areas, as well as into the general working environment.
"MRSA infections in England alone increased by 3.6% between April 2003 and March 2004." (Health Protection Agency)
The Technology
The active ingredient in BioCote is the element silver in the form of silver ions. Silver is a natural antimicrobial, which has been used for many centuries for its abilities to aid in preservation, especially in water systems. Silver is also currently used in the healthcare sector in silver coated catheters and wound dressings.
The silver ions are added to materials at the manufacturing stage. This results in an active concentration of silver ions on the surface of the product.
"Hospital-acquired infections lead to approximately 5,000 deaths every year" (National Audit Office report July 2004).
The silver ions cause functions in the bacteria to break down. This results in the bacteria being unable to reproduce and therefore inhibits bacterial growth.
Extensive independent testing has been carried out on a wide range of bacteria including MRSA and E.coli. Products have been tested for the simulated life of the product /material with no significant reduction in the antimicrobial performance noted; therefore the silver ions are effective for the life of the product.
BioCote forms part of a second line of defence, with the potential for spreading contamination through manual contact being minimised. Working with Manufacturers, BioCote can offer a complete anti microbial solution incorporating BioCote technology into a variety of product surfaces which are effective against a wide range of organisms.
"At any one time, 9 per cent of patients had an infection that had been acquired during their hospital stay. The effects varied from extended length of stay and discomfort to prolonged or permanent disability. (National Audit Office report July 2004)
Product Validation
| | |
| --- | --- |
| Bacterium | Reduction of bacteria over 24 hrs |
| Listeria monocytogenes | 99.9% |
| Staphylococcus aureus (MRSA strain) | 99.9% |
| Escherichia coli | 99.9% |
| Salmonella enteritides | 99.2% |
| Pseudomonas aeruginosa | 99.9% |
| Bacillus subtilis | 99.9% |
| Salmonella typhimurium | 99.9% |
| Streptococcus faecalis | 99.9% |
| Legionella pneumophila | 99.3% |
| Enterobacter aerogenes | 99.9% |
4 Types of Stormor Shelving Systems
At ESE Direct we are a supplier of Stormor shelving systems, these are:
Ideal for office use the Duo shelving range has open or clad backs.
Open shelving units with higher storage capacity than Duo shelving.
Ideal for archive storage the the Solo shelving range has open or clad backs.
For the safe storage of very heavy items.

Author Bio -
Simon
Managing Director, 1999-2015.