Different types of Drip Trays and what they can do for you
When working with hazardous substances, chemicals, fuels and oils, there is always the possibility of spillages or leaks, so to prevent a potential accident the use of drip trays is highly recommended. These are designed to contain any spillages in order to keep the workplace as safe as possible.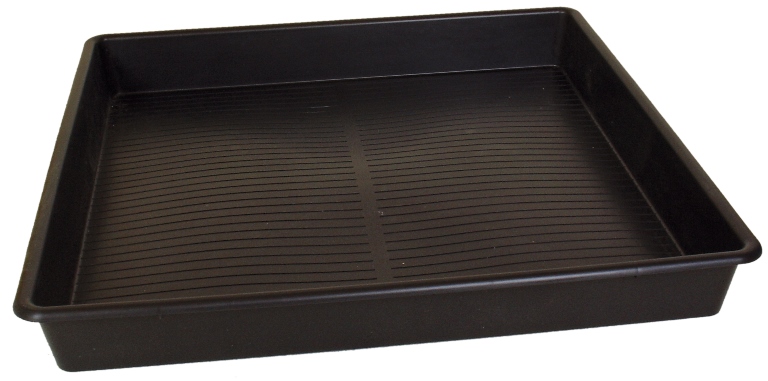 Drip trays are available as individual units or can be purchased in packs depending on your requirements. Different variants of these drip trays can be used for a wide range of uses in and around the workplace. There are many types of drip trays available, but which type of spillage containment is most suited to different applications? Who would use them and why?

Plastic Drip Trays:
Constructed from Heavy Duty Polyethylene (HDPE), Plastic Drip Trays are designed to be useful in a variety of situations and emergencies, and are used by many businesses and organisations in a variety of situations in and around the workplace.
So where can they be best used? Well here are a couple of examples:
Leaky Roofs and Pipes Drip trays are extremely useful for any company that suffers from leaking pipes or roofs, as they are a simple but effective method for containing the leak. Preventing leaks in the office or in the workshop is important, as the liquid that drips through can eventually soak through into the floor. Containing the leak prevents possible damage to the premises and removing a potential slipping hazard.

Garages and Motor Factories Plastic drip trays are also known to have been helpful in the motoring industry, particularly in workshops and garages. Water, oil or brake fluid changes can turn into quite a messy job, so drip trays are frequently used by the mechanics to prevent the liquids spilling over. This not only prevents damage to the premises or to the vehicle in question, but it makes this procedure so much simpler, avoiding long clean up jobs afterwards.

Flexi-Trays:
Rubberised versions of plastic drip trays are also available. As well as having good scratch resistance, the rubberised plastic construction allows them to be stood on or driven over before returning to their original form. This makes them suitable for a busy workplace with very little space, such as a workshop or warehouse, as it can be easy to unintentionally stand on or drive over the drip tray as you are trying to move around.
Shallow Flexi-Trays:
The shallow flexi-trays are in three different sizes, and are ideal for use by mechanics or by service engineers as a spill tray or as a work mat. They are comfortable to work on, while the fact they can be lined with absorbent pads/socks increases the ability to prevent any liquid or fluid spillage. Shallow Flexi-Trays are also available with dispensing grids, which can make them especially useful if you are refuelling or transferring fuel, oil or other hazardous liquids between containers. This therefore makes them great for use in workshops, industrial premises and farms, and the dispensing grids protect cans and other items against damage from the spillages that are collected at the base of the tray. For cleaning purposes, the grid can be easily lifted out.
Deep Flexi-Trays: If it's heavy machinery you are working with, then a Deep Flexi-Tray is what you are looking for, as the sides on Deep Flexi-Trays are twice as high as the Shallow alternatives, making them capable of containing a larger amount of spilt or leaking fluids. With a flexible but extremely tough construction, they can be fit underneath the machinery to catch the inevitable spillages and leaks. All variants of Flexi-Tray come with an excellent resistance to:
detergents
foodstuffs
coffee (which is good, because what workplace is without cups of coffee lying around!)
They also have good resistance to weak acids, alcohol, weak base and aliphatic hydrocarbons such as Propane, Propene and Butane.

If you should need any further help on the type of drip tray for you, call us on 03333 316 083 or drop us an email to [email protected]



Author Bio -
Tim Bailey
Marketing Assistant, June 2013 – July 2018