#ESEcharityday February 2015 - Crossroads Care
The winners of the public vote for #ESEcharityday February 2015 were Crossroads Care.
Lorraine Sartain has been working for Crossroads Care East Anglia as a Co-ordinator in the Norfolk and Norwich area for over eleven years. She was delighted to receive on behalf of the charity, a cheque for £549.31.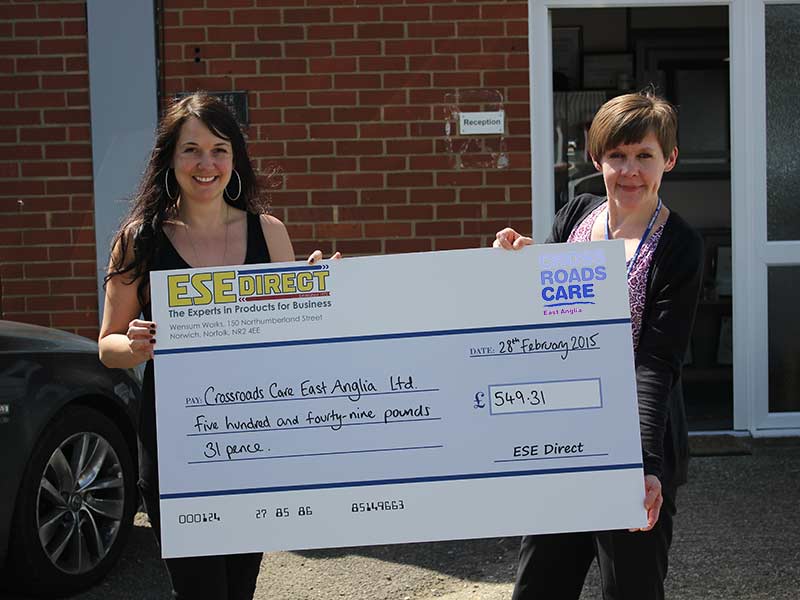 The money will be going to Emmerich Court in Kings Lynn, there they provide support groups for people of all ages with conditions such as ADHD, Cerebral Palsy, Dementia and Parkinson's. Lorraine describes the centre as "a warm and friendly environment" where they also provide meals. The staff comprise of paid workers and volunteers.
Crossroads Care has been helping people for over 35 years. It was set up and named after the ITV television soap opera Crossroads. They can provide over 65 different activities.
Lorraine is currently working on a care package for people who are travelling or on holiday and require care on the move.
To find out more about Crossroads Care services take a look at their website.
http://www.crossroadseastanglia.org.uk
They are currently recruiting staff, if you are interested refer to the careers section of their website
http://www.crossroadseastanglia.org.uk/careers/
and get in touch.

Author Bio -
Debs
Content, marketing, social, graphic design and PA to an unusual small red dragon.