International Happiness Day - Songs!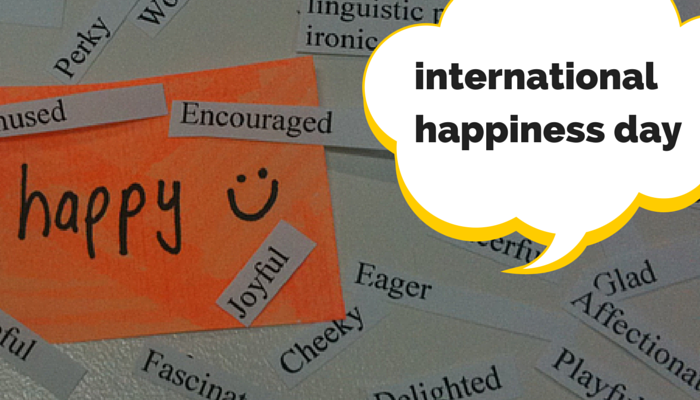 Jammin – Bob Marley
It reminds her of being on holiday and somewhere hot, and it is always on her holiday playlist.
Laura Holland
Happy – Pharrell Williams
When I used to walk into work it was to this, great way to start the day.
Martin Gilmour
Africa – Toto
Because it has the word Serengeti in it.
Julie Bowman
Crazy – Seal
Julie said that any song she can sing-a-long badly to made her happy!
James McConnell
Always Look On the Bright Side of Life – Eric Idle/Monty Python
Well James was singing this during the eclipse so…
Debs Whomes
Mozart Requiem – Mozart
She also cited YMCA and Happy by Pharrell Williams as well, she loves her music does Debs.
Gemma Eyles
Rock Lobster - The B52's
Because it reminds her of when she was little jumping around listening to it.
Julie Davison
Mr Blue Sky - ELO
Kelly Raynsford
Welcome To Jamrock - Damian Marley (May have explicit lyrics, be warned!)

Kelly chose this song as it reminds her of Boomtown Festival.
Nick Francis
Rabbit Hole - Jamie T
Just a feel good track.

Author Bio -
Laura Holland
Social Media and Web Content Coordinator, Jan 2014 - May 2015