Recipe Corner - Kelly's Herb Crusted Rack of Lamb
Kelly has put together this easy to follow step by step guide to a delicious herb crusted rack of lamb with fondant potatoes, perfect for those fast approaching winter nights.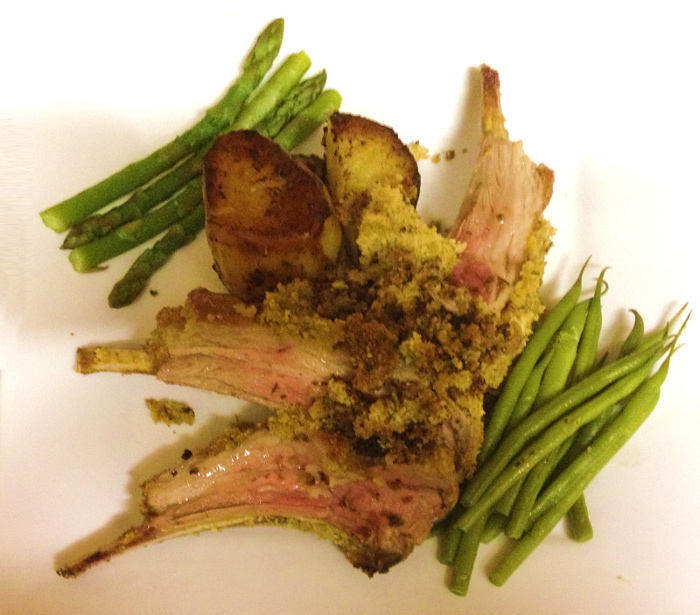 For the herb crusted rack of lamb
Ingredients
50g fresh white breadcrumbs or white bread, torn into small pieces
2 tbsp roughly chopped parsley
2 tbsp thyme leaves
2 tbsp rosemary leaves, picked from sprigs
zest 1 lemon
25g grated parmesan
2 tbsp olive oil, plus extra for drizzling
2 x 8-bone racks of lamb, well trimmed (see 'Try', below)
2 tbsp Dijon mustard
Method
1. Heat oven to 200C/180C fan/gas 6. Tip the breadcrumbs, herbs, zest and Parmesan into a food processor with 1 tbsp of the oil and some seasoning. Blitz until everything is finely chopped.
2. Heat the remaining oil in an ovenproof frying pan. Season the lamb, then brown it well on all sides and turn off the heat. Turn the racks so that they are fat-side up, and brush liberally with the mustard (Step 1, above). Pack over the herb crust (Step 2), drizzle with a bit more oil, and roast for 25 mins until the crust is golden and the lamb is cooked – this will produce lamb that is pink in the middle but cooked all the way through. If you like your lamb rarer, roast for only 20 mins; if you like it more done, give it 5 mins more. Put the lamb on a board to rest.
For the Fondant Potatoes
Ingredients
500g evenly sized small new potatoes
1 tbsp olive oil
15g butter few thyme sprigs
50ml chicken or vegetable stock
Method
1. Heat oven to 190C/170C fan/gas 5. Peel the potatoes and pat dry with kitchen paper. Heat the oil and butter in a flameproof dish, add the potatoes and brown all over – this will take about 5 mins. Season well, add the thyme sprigs and stock, and bring to the boil.
2. Transfer the dish to the oven, uncovered, and cook for 25-30 mins until the potatoes are tender.

Author Bio -
Laura Holland
Social Media and Web Content Coordinator, Jan 2014 - May 2015