Safety signs in the workplace and their meanings
Installing health and safety signs in the workplace ensures that employees and visitors are given appropriate warning of potential health and safety risks, allowing them to take action to prevent accidents and injuries at work.
According to the Health and Safety (Safety Signs and Signals) Regulations 1996, employers must make sure that potential hazards in the workplace are appropriately labelled. Labelling hazards is only part of an employer's responsibilities to employees, and signage must not replace other appropriate health and safety measures such as the provision of personal protective equipment.
Choosing the Correct Health and Safety Signage
Ensuring the appropriate health and safety signage is used in the workplace can help to prevent accidents and protect employers from litigation and employee personal injury compensation claims. Signs should be placed in areas where they are highly visible and should be easily identified from a distance.
Health and safety signage falls into four main categories each of which is easily recognisable by style, colour and shape.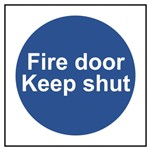 Mandatory Signs
Mandatory signs are circular with a white pictogram on a blue background. They should be used to inform workers to perform specific actions or to take appropriate precautions. They should be used as a reminder to workers to use personal protective equipment and take actions to reduce the risk of accident and injury to other workers.
Emergency Signs
Emergency signs should feature white text on a green background for marking exit routes with fire safety signs featuring white text on a red background. Emergency signs give clear and precise instructions to staff and visitors and ensure the quick and safe evacuation of a building in the event of a fire. The signs should be located in areas where they are highly visible, and it should be possible to see them from every room and walkway.
Prohibition Signs
Signs prohibiting an activity should be round with a black picture on a white background with a red border. Prohibition signs should be highly visible and placed close to a hazard in addition to being placed at all entrances and exits. The bright red prohibition signs are universally recognised and are easily identified from a distance.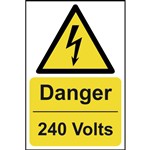 Warning Signs
Warning signs are triangular with a black pictogram on a yellow background surrounded by a black border. The signs should be used to warn people of specific risks in the workplace. Signs can be placed next to a hazard to alert workers to a danger, or a mobile a-frame warning sign can be used for temporary hazards such as open manholes, spillages and electrical cables and other trip hazards.
UK and EU Standards for Health and Safety Signage
The HSSA – Health and Safety Sign Association – has now adopted a new standard termed ISO EN 7010. This is intended to provide greater standardisation of health and safety signage across the EU. This new standard replaces the previous BS 5499. You should only purchase signs which are marked as complying with these standards.
If you want to ensure your workers are protected and the risk of accidents and injuries in your place of work are kept to the minimal level, the purchase of rigid PVC or self adhesive vinyl safety sign is a must.