Staff Spotlight - Charlie McConnell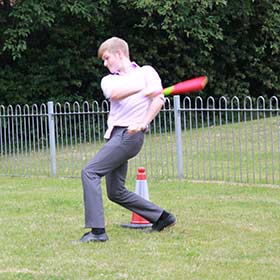 It's time to put another member of staff under the spotlight.
Today we turn to the newest recruit to our Customer Services team, Charlie. Here's how he responded when we asked him a few questions.
What is your role at ESE Direct?
Customer Services (mule). (his words, not ours!)
What do you like to do in your spare time?
Go out to see my imaginary friends.
Who are you listening to at the moment?
Stormzy.
What was the last book you read?
Jeffery Archer - The Sins of the Father.
What is your favourite film / the last film that you watched?
My favourite film is The Wolf of Wall Street and the last film I saw was Terminator Genesys.
If you could have dinner with three people, living or dead who would it be and why?
Jeremy Clarkson, Vladimir Putin and Gordon Ramsey.
What is your hidden talent?
I love cooking and baking. I might say my hidden talent is making sushi?

Author Bio -
Debs
Content, marketing, social, graphic design and PA to an unusual small red dragon.