Trolleys, Trucks and Sack Trucks
Trolleys, trucks and sack trucks, they all look pretty darned similar don't they? But we are here to tell you the difference and what they can be used for in a quick guide.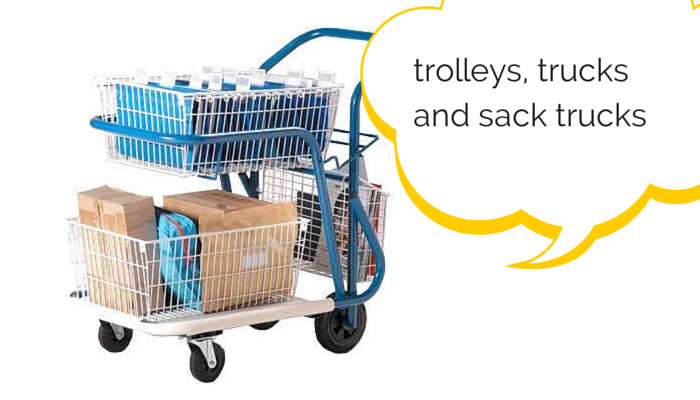 Never again will you feel inferior in your truck, trolley and sack truck knowledge.
Trolleys
There is a whole array of trolleys available covering a multitude of jobs and tasks that they can perform or assist you with, including:
Trolleys are great for moving goods, documents and post, medical supplies easily around premises.
Trucks
Trucks like trolleys cover a whole array of uses, and take on many different forms from pallet stackers to wheelbarrows.
You will find the majority of trucks used in the factory, warehouse, and distribution industries for loading and unloading goods and moving stock about when needed.
Sack Trucks
Very similar to their 'normal' cousin the truck, these guys are designed to aid heavy lifting and transportation of heavy and/or awkward and bulky objects or good which would ordinarily cause some sort of strain to attempt manually. Sack trucks cover the following:
The great thing about sack trucks is that they are incredibly versatile and can deal with a variation of weight capacities and floor surfaces due to their wheels with bouncy pneumatic tyres.

Author Bio -
Laura Holland
Social Media and Web Content Coordinator, Jan 2014 - May 2015