ESE Donate £500 for Jeremy's Latest Challenge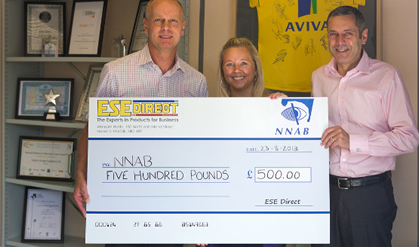 This month's charity vote by ESE Direct has seen the company raise £500 for NNAB to sponsor former Canary Jeremy Goss' latest daredevil feat; a mile long trip down a zip wire at speeds of up to 100 mph.
The challenge, to take place in September, is the latest in a series which have seen Goss bike across Europe and take part in a record breaking bungee jump, all to raise funds for the Norfolk and Norwich Association for the Blind. Talking of the challenge, Jeremy said "I guess the NNAB is developing quite a reputation for offering people an extreme sports challenge, and this will be up there with anything I've done before."
The NNAB won a very tight vote on the ESE Direct website, but were able to fend off competition from Norfolk Heart Trust and St. Nicholas Hospice to receive the donation. Managing Director Simon Francis said "We are very pleased with the response to our Charity Days and hope that the good caused that missed out this time will come back later in the year to try again". He added "We are thrilled to be able to present a cheque for £500 to support Jeremy's latest venture and to contribute to the great work done by NNAB across the region". As the winning charity, NNAB received a cheque for 5% of the web sales received on the last Friday July. The cheque was presented to Mr Goss by Sales Manager, Mark Wilson and Sales Co-Ordinator, Alana Cutmore.
For more details of Jeremy Goss' zip wire challenge and the work done by NNAB, check out their website at www.nnab.co.uk. To get involved in a future ESE Direct Charity Day, please visit our charity days page.