Going Up? Best Ladders for Work and Home Projects
If you're working at any height, it's more than handy to have a ladder. Now, we don't necessarily mean the first floor and above. There are times when you'll need a ladder to reach those hard to get to places even on the ground floor.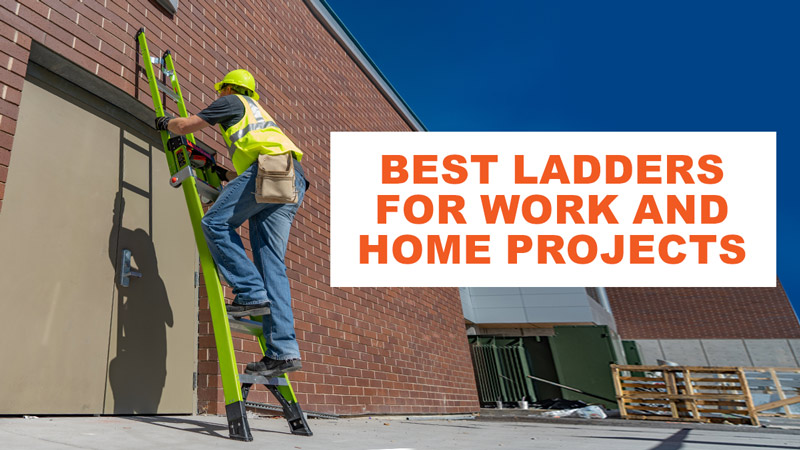 But the choice of ladders available is, to say the least, rather large - step ladders, straight ladders, extension ladders, double ladders, platform ladders, multi-way ladders, trestle ladders - the list goes on!
The added conundrum is that there are different types of ladders for home and work projects. So, which are the best ladders for your project?
Types of ladders and their uses
Whether it's a DIY job, splashing on a bit of paint, building an extension or just changing a lightbulb, choosing the right ladder is about more than just reaching your desired height. So, what else do you need to consider?
Safety
Application (what you're going to use it for, and where)
Durability
Convenience
But before you choose, let's talk about types of ladders. Here's a list of the main types of ladders and their uses.
Stepladders
Probably the most common and most used ladder is the stepladder, suitable for a variety of projects. The big advantage of the stepladder is that it doesn't need to be leant or propped up against a wall or something else. This is because they are an inverted V-shape and self-supporting, just like this one from ESE Direct.
They are two-sided, although, in most cases, you can only use one side. Because step ladders fold, they are easy to move around and transport. Other features include:
Height ranges between 4ft and 20ft
Hinged for easy storage and transport
Versatile, one of the best multi-use ladders
Ideal for painting and decorating, landscaping or changing light bulbs
The stepladder is one ladder most homes should have in the shed as its versatility makes it suitable for many jobs.
Straight ladders
Also known as single ladders, they must be leant against a solid surface or wall at a safe angle and anchored at the bottom. They are usually non-adjustable, but you can get closer to the wall because they are one-sided.
They are portable, and most of today's designs are lightweight. This makes them ideal for more professional jobs like roofing, cleaning gutters or construction.
Platform ladders
This type of ladder is generally used in situations where you need to stand on the ladder for a while or reach a wide area, such as decorating, landscaping, construction, installing a lighting system or arranging a picture display.
They are self-supporting in that there is a platform at the top of the ladder, so rather than standing on a rung, it opens out as a platform. Platform ladders are hinged for easy use, storage and transportation. Although they are double-sided, in most cases, you can only climb one side and must ensure the ground is level and provides sufficient support to take the weight of the ladder and you.
Extension ladders
This ladder is essentially an 'extension' of the straight ladder, but you can adjust its length by sliding its different sections up and down the tracks on the side of the ladder. They can be adjusted to as much as 60ft, some even higher, but you must note that the longer the ladder, the more flexible it will become.
Extension ladders are generally only used by professionals for industrial projects, like construction, roofing and high-level maintenance jobs.
Trestle ladders
The trestle ladder, also known as the double-fronted ladder, is designed to be used by two people simultaneously. As well as being portable and self-supporting, they are hinged for easy set-up and storage, and both sides can be used to climb the ladder.
This type of ladder is ideal if you work with someone on the same project, like painting and decorating, construction or installation jobs.
Multi-way ladders
As the name suggests, this type of ladder can be manipulated into several other types, such as a single straight ladder, an extension or trestle ladder, or a step ladder. They are adjustable, can be climbed on both sides, and are hinged for versatility and storage. They also have side-mounted stabilisers which can be adjusted independently when on uneven ground.
Multi-way ladders are the most versatile ladders in the market today, and you will find that most professionals will have one or two multiway ladders that can transform into the ladder they need for the job. This saves storing or carrying too many ladders, for example, for property maintenance, cleaning projects, home renovations and extensions, and bigger construction jobs.
It's essential to ensure that a ladder is on a level, solid surface before climbing, but that is not always possible. When you have a surface that isn't ideal, a ladder stabiliser will expand the base area and ensure the ladder stays in one place.
It is adjustable according to the ladder you're using, and you can also secure the ladder to the stabiliser for extra security. For home jobs, an excellent way to stop a ladder from moving or slipping is to use an anti-slip ladder stopper.
We also have a variety ladder accessories including ladder hooks, brackets and clamps to keep your ladder secure when on the move and for easy storage.
ESE Direct has the correct type of ladder for any work or home job, no matter what size. But if you can't find what you're looking for or need a bespoke solution? No problem - call us today on 0808 258 2733, and our experienced team will help you.

Author Bio -
Debs
Digital marketer, social media, content writer, musician, sloth-lover, tea-drinker.