Just Shelving - Questions Answered!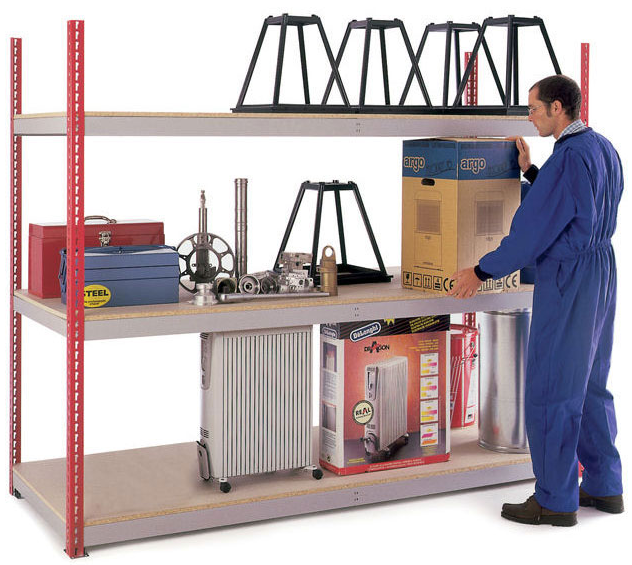 Are wooden shelves not less sturdy than metal?
No, our wooden shelves sit inside metal beams, and are supported on all sides. This gives the shelves a greater weight capacity as steel can bend or bow under heavy weight, wood does not, this is why you will find the majority of heavy duty shelves are made from wood.
When adding extra shelves, how many extra can you add on?
You can easily fit on 9 shelves, but obviously it entirely depends on what you are storing and how much height you need to store your items.
Where can it be used?
For domestic use, we find that these robust and practical shelves are typically used for garages or large sheds. Commercially they can be used for stockrooms, retail outlets, archive storage and anything else that doesn't require heavy duty storage.
Can you add different shelving capacities onto one unit?
No, the different weight capacities of each shelve is a different size, so you would need to have all shelves at the same capacity to fit properly as well as being safe and secure.
How easy is it to assemble?
Yes, easy to assemble, there are no nuts or bolts needed everything clips securely into place.
What is the maximum weight capacity?
Our Standard Shelving weight capacity is = 2000kg
And the Heavy Duty Shelving weight capacity = 3000kg
What's the difference between standard and heavy duty shelving?
Heavy duty shelving has deeper beams, and instead of the J shape it is L shape. There are also ties underneath the shelves to keep the weight distributed evenly with no bowing. And the uprights are also thicker for more support.
What different depths are there?
Standard Duty Shelving 1981 high with 5 Shelf levels: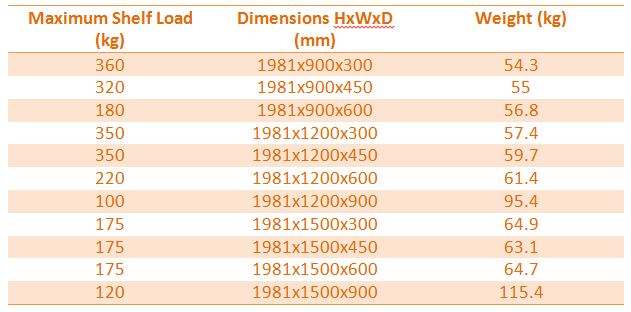 Standard Duty Shelving 2438mm high with 6 Shelf levels: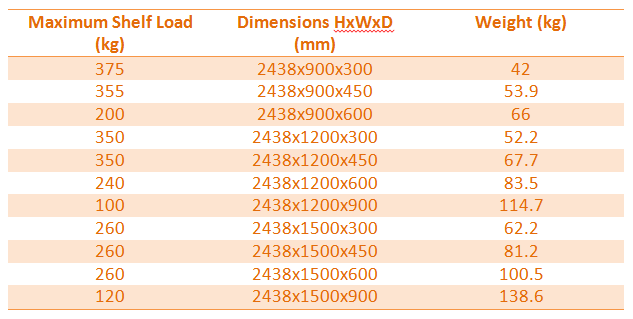 Heavy Duty Shelving 1981mm high with 3 Shelf levels: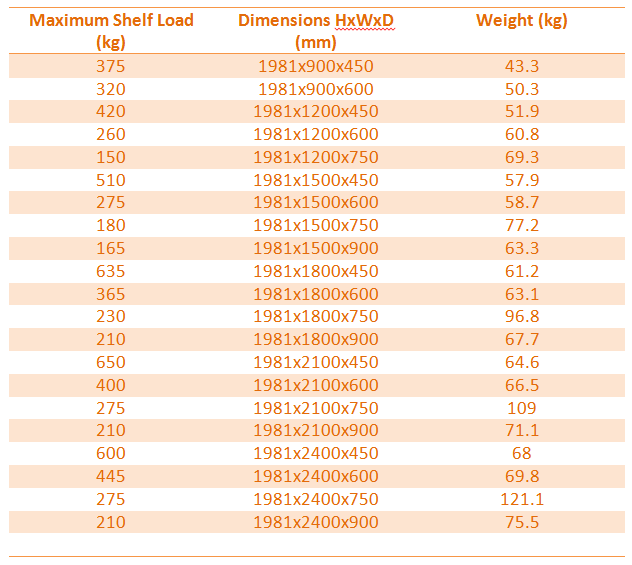 How do I know the shelves are high quality?
The shelves are made in the UK by Link51 who are based in the midlands, all Link51 products are design, manufactured and installed under quality management systems conforming to the international BS EN ISO 9001: 1994 and Quality Assessment Schedule (QAS) 2000 Category A.

Author Bio -
Laura Holland
Social Media and Web Content Coordinator, Jan 2014 - May 2015