Keeping Abreast Charity Day
Keeping Abreast were the winners of our March Charity day and a few weeks back the National Fund Raiser and Development Manager Victoria White came in to receive their cheque.
Victoria's role at the charity is to raise awareness of what they do through events, conferences and seminars such as the Keeping Abreast Ball and Fashion Show which both get a tremendous turn out.
The charity itself is for women considering having, undergoing or recovering from reconstructive surgery following breast cancer. Offering group support or 1-2-1 sessions as well as connecting people. The charity also offers transport to patients going to and from hospital appointments as well as providing volunteers to help with day to day activities while they are recovering from surgery.
The money that has been raised from ESE Direct's Charity Day will go towards the upkeep of these services. The charity has very kindly provided us with a certificate to show how much we have raised for them.
You can find out more about Keeping Abreast by visiting their website.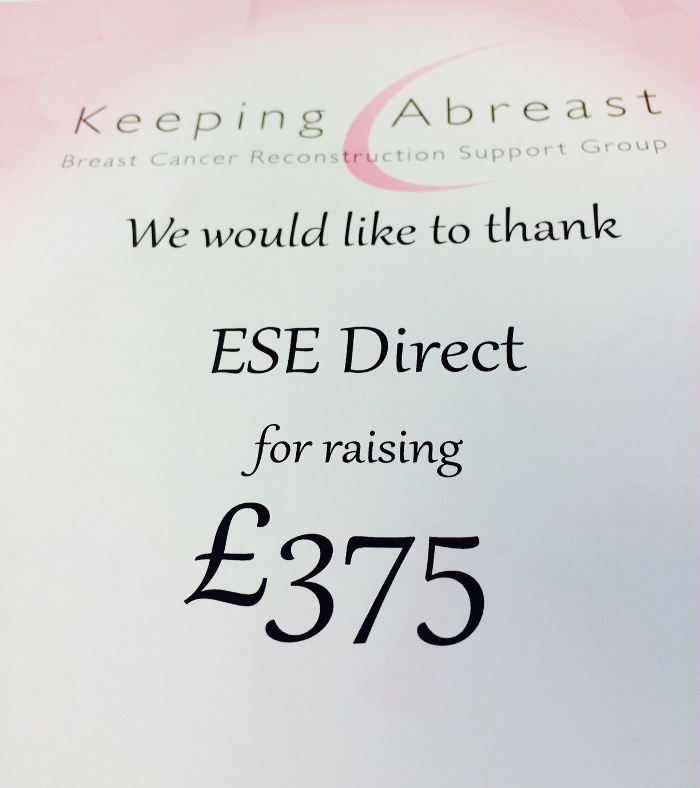 Author Bio -
Laura Holland
Social Media and Web Content Coordinator, Jan 2014 - May 2015