New appointments for the ESE Direct team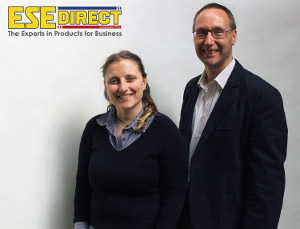 ESE Direct continues to stengthen its award-winning team with the introduction of a new Finance Director and experienced Marketing Data and Information Analyst.
Mike Wyard initially joined the team, based at Wensum Works on Northumberland Street, as interim Finance Director, where he has been in post for the last 4 months. He made an immediate impact and was offered the role permanently from 02 April.
Mike is a qualified accountant, and will take responsibility for the full finance function at the company which has experienced significant growth in recent years and is aiming to at least double turnover again in the next 3 years.
Cecile Ducret has joined the team following a move to England from her native France. An experienced marketing data and information analyst, she will collect and analyse performance data on online sales, customer contact, and promotions and mailings, ensuring ESE Direct continues to innovate and learn from its work to achieve the desired growth.
Managing director, Simon Francis said of the appointments: "Mike really impressed us during his time as interim Finance Director and so it made perfect sense to offer him the role permanently. Cecile will bring valuable analysis experience to the team and we will now be able to monitor and continually improve our performance. We welcome them both to the ESE Direct team."
ESE Direct sells a vast range of products from workshop and storage equipment to site safety products, first aid kits and signs. Sales from their extensive e-commerce site www.esedirect.co.uk and mail order catalogue make up 80% of their sales.
ESE Direct have at least 3 more appointments to make in the coming months as a result of a buoyant start to 2013, with sales for the first quarter up by 25% on the same months in 2012.

Author Bio -
Simon
Managing Director, 1999-2015.