Norfolk Business Takes Double National Crown in Industrial Oscars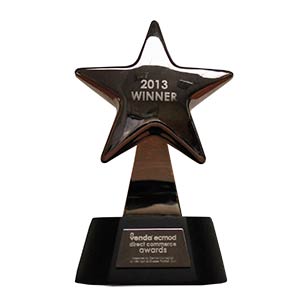 PRESS RELEASE:
Norwich based industrial supplies company ESE Direct is celebrating today after being recognised by its peers in the industry equivalent of the Oscars for the third successive year.
The company, which employs 25 people at its base at Wensum Works on Northumberland Street, was crowned winner in two categories at last night's Direct Commerce venda-ecmod awards, the glittering ceremony for which took place at Chelsea's Stamford Bridge football ground last night.
The team was awarded the title of 'best brand with sales of up to £5m' as well as 'best business by speciality – industrial and warehousing supplies'.
Sky TV presenter Dermot Murnaghan hosted the event and presented the awards to managing director Simon Francis, who took over the company from his father in 1999.
The business, which has been listed in the Archant Future50 group of companies, won the 'best brand with sales up to £5m' category in both 2012 and in 2011, and was also awarded the category of 'best industrial supplies catalogue' in 2011.
Simon Francis, managing director of ESE Direct said: "We are absolutely thrilled to have been recognised again and to be given such a prestigious award for the third time. 2012 was an extremely good year for us in terms of increased turnover, staff growth and improving a lot of our processes to ensure optimum customer service. This is a real testament to the team we have in place and their spirit and work ethic, so we'll be dedicating it to them!"
The self-confessed Norwich City fan added: "Not only that, but we're proud to say that Norwich scored two at Chelsea!"
The venda-ecmod direct commerce awards have spearheaded the recognition of business excellence for organisations engaged in business-to-business and direct-to-customer retailing across traditional and newly emerging channels. With categories designed for those targeting sales to businesses as well as for those selling to consumers, these unique awards also seek to celebrate the achievements of businesses of all scales and at all stages of development.
ESE Direct sells a vast range of products from workshop and storage equipment to site safety products, trucks, trolleys and signs. Sales from their extensive e-commerce site www.esedirect.co.uk and mail order catalogue make up 80% of their annual sales.
They have also launched an online poll this week for site visitors to decide which of three Norfolk charities should receive the proceeds from their first in a series of online charity days, which takes place on 26th April. Find out more about the company and vote for the charity of your choice at www.esedirect.co.uk.

Author Bio -
Simon
Managing Director, 1999-2015.