Recipe Corner - Julie's Aromatic Pork Balls
Summer's here (allegedly) which calls for a recipe fit for the season. And so I bring you spicy and aromatic pork balls; quick and easy to make and so incredibly versatile that even Jamie Oliver would be impressed.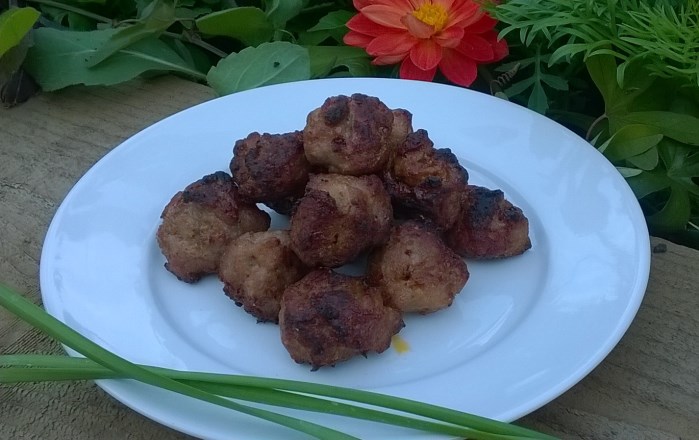 For this culinary treat I use sausage meat – yes the type you usually buy at Christmas, but no, don't bother trying to track this delicacy down at your big-name supermarket outside of the festive period! Better to head to your local butcher who will more likely have a ready supply. Usually sold in 'rolls', I freeze my uncooked rolls so I can whip up a batch of balls whenever the mood takes me.
Next up is the not-so-secret-ingredient which forms the basis of just about every meal – come rain or shine, summer or winter – I swear by my homemade oil (and indeed I have on a few occasions, it's amazing how far a small amount of oil can spread across a kitchen floor!) In a small ramekin rough press a couple of garlic gloves, skin and all. Then add spices according to taste (on indeed whatever you have in the cupboard) – I always use fresh black pepper, cumin, coriander, garam masala, ground chili, chili flakes, smoked paprika, curry powder and harissa. If you really want to prove your cheffy-credentials (or have a lot of time on your hands) you can dry roast whole spices and grind them up in a mortar and pestle. Finally cover the tasty mixture with extra virgin olive oil and leave to steep in a lovely ramekin of unctuousness.
And voila! A short time later (anything from ten minutes is fine) you'll have a delicious oil which is perfect for flavouring not only meat, fish, tofu, but also noodles, cous cous and stir fries.
Ingredients for Pork Balls
1 x roll of sausage meat
1 x garlic clove
Assorted spices (to taste)
Extra virgin olive oil
Method for crafting the perfect balls
Free the sausage meat from its protective casing onto a dinner plate. Fork the meat from a tubular roll into a flat shape, and drizzle some of your bespoke oil mix evenly over the pork. Then using the fork, fold the pork back over onto itself to make a rough tube shape, ready to separate into even-sized pieces. Break pieces off using the fork and roll in the palm of your hand until a rough ball shape. Place on a grill tray, either indoors or out and grill until cooked, which will depend on the size of your balls. Smaller rolls work really well as they cook quickly and turn deliciously crispy.
Serve on marinated noodles or pasta, or on a bed of mixed salad leaves. These also work well in a pitta or roll with a dollop of raita and extra chili sauce for al-fresco dining occasions.
Note: Artfully arranging herbs around your balls is optional, as is photographing the finished dish, which frankly only served to bemuse my neighbours and challenge my dog!
Note: The oil mixture will keep for a few days; it can be topped up with more oil and spices if needed, and the empty ramekin can be added to the dishwasher, as can the used garlic press.
And if pork is your thing, then don't miss Porkstock 2015, a free to attend food and drink festival held each summer in Norwich.
Extremely Satisfying Eats

Author Bio -
Julie
As ESE Direct's Digital Marketing and Brand Specialist, I'm passionate about creating an engaging experience for our customers. Other interests include exploring the world, discovering new plants for my garden and long walks with my dog Pete.