Sack truck in the spotlight
"Oh how I just love moving and handling heavy objects such as fridges and freezers"... said nobody ever.
So, we thought it only right and proper that we give this specially designed heavy and bulky item moving sack truck a little bit of love and attention.
Originally created for the manoeuvring of white goods, the extra-tall nature of the trolley means that items are supported from head to toe giving it more stability. It also has the added bonus of nice spongy rubber padding on the rails which protects unpackaged items from scratches and bumps. It also comes with knuckle guards on the hand grips to save you from bruised knuckles which may have otherwise been knocked on door frames.
The wheels have pneumatic tyres which provide cushioning when moving the truck up and down steps and stairs.
Where there are two people manoeuvring the appliance, the carrying handle (available separately), can be attached to the underside of the footplate. This creates a sturdy handle which effectively turns the truck into a type of appliance stretcher! So, with a carrying person at either end of the appliance it can then be safely carried up and down flights of stairs.
Note 1: We recommend using an elastic bungee cord or strapping to secure the appliance to the truck for additional safety precautions when carrying up and down stairs.
Note 2: This truck is a little too tall for use by Health and Safety Bears so best to send yours off for a tea break at this time…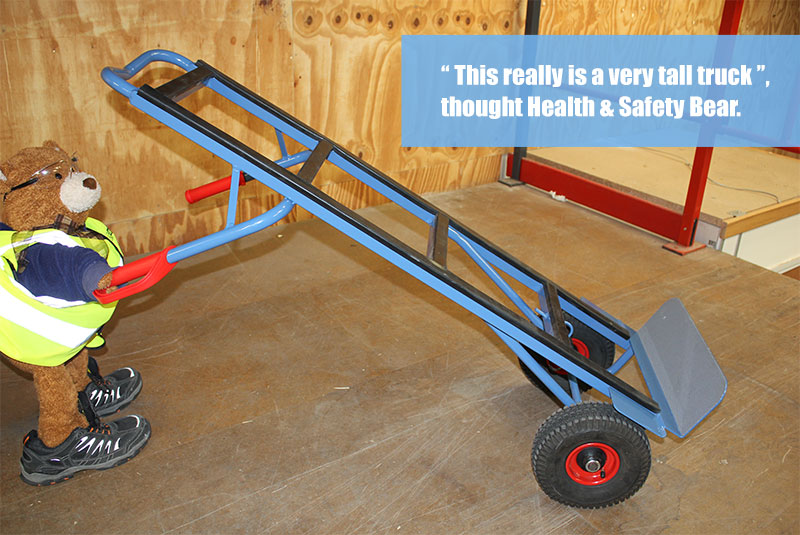 Have you browsed our range of sack trucks but are unable to find the perfect one for you? Worry ye not! We can provide bespoke solutions tailored to your requirements. For free, no obligation help and advice call us on 0808 278 3258.

Author Bio -
Debs
Content, marketing, social, graphic design and PA to an unusual small red dragon.