We Can Barely Container Selves
When you are dealing with large quantities of stock, no matter what it is; food, chemicals, or large bulky items at some point you will need a place to store them temporarily or for a longer period of time.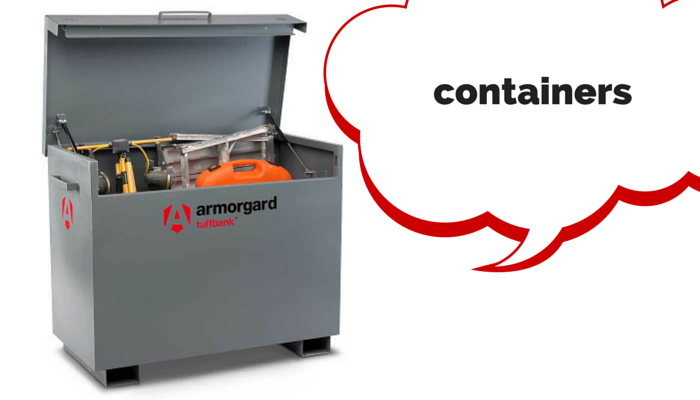 That's where containers are an invaluable commodity to have in your factory or warehouse. But there are various different containers with different uses; we have taken a look at some of the most popular.
Roll Containers
Roll containers are ideal for moving stock about, especially if you deal with daily deliveries. Available in 2, 3 or 4 sided as well as lockable and demountable options these roll containers are an incredibly versatile choice an ideal for retail or wholesale businesses.
Distribution Containers
Distribution containers are very durable, being able to withstand a lot of wear and tear daily from transporting goods to being stacked and stored.
They also come with the option of lids and trolley bottoms making them mobile and easier to manoeuvre. If you need containers that don't take up much space when not in use there are also folding options. Ideal for warehouses and factories.
Security Chests
Construction sites are becoming a target for more and more thefts these days, making security of tools and equipment paramount.
Security chests are constructed of heavy duty steel plates and feature five-lever deadlocks and anti-jemmy reinforced bars. The reinforced design of these locks means that even drilling won't get into the chest, making this ideal of construction site or garages.
Food Containers/Trucks
Food containers and trucks are made from food grade polyethylene, and is designed to be shatter proof and hard wearing. It is ideal for transporting food ingredients between factories or warehouses during the production or processing of food.
Hazardous Storage Containers
These large hazardous storage containers are ideal if you have large amounts of chemicals or flammable materials to store on site.
They have a half hour fire rating and a removable steel floor which has a fully welded and tested sump helping to prevent leakage. Also featuring lifting eyes for crane use it makes these containers ideal for industrial workplaces and laboratories.
Collapsible Containers
Collapsible containers are great for sites in need of extra or versatile storage. With the ability to be bolted together to create bigger walk in storage, and when they are not being used can be stored in minimum space, which is particularly ideal when space is at a premium.
Best suited to industrial premises, construction sites and pharmaceutical or manufacturing businesses.

Author Bio -
Laura Holland
Social Media and Web Content Coordinator, Jan 2014 - May 2015