Document Display Systems and Pockets
Whether its for displaying or organising documents for the week or just keeping them safe from damage in your draw, most offices will need document pockets and displays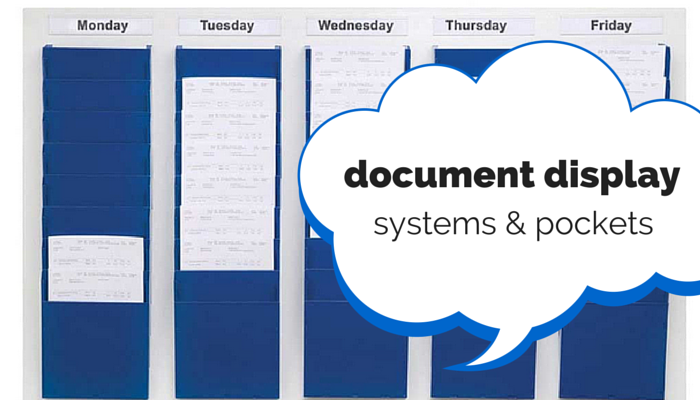 As the start of the year is a good time to get organised, we will take a look at the document display systems and pockets in a bit more depth.
Document Display Systems
The
document display systems
are designed to be mounted to the wall and act as filing/organising system for A4 sized documents.
It's a flexible system as it can be expanded simply by adding extra holders above or below it.
You can often find these systems in offices and workshops where workloads or jobs need to be organised and updated regularly.
Document Display Pockets
These
document display documents
are ideal for presentations, organisation and filing in an office or workshop environment.
They can also be fixed onto racking or shelving beams, which allows for product identification or information in the warehouse or factories, or maybe even cash and carry environment.
To protect the document from damage they also allow for clear covers to be added, this is ideal if you are working in dirty, dusty or damp environments.
The document display pockets we stock are available in green, red, dark blue, yellow, orange, white, transparent, light grey, blue-grey and black.
If you have any questions regarding either document display systems or document display pockets, please do not hesitate to contact our friendly customer support team on
03333 316 083
.

Author Bio -
Laura Holland
Social Media and Web Content Coordinator, Jan 2014 - May 2015