Industrial Fan Keeps Boat Builders Cool
One might imagine boat builders requiring sowesters, waders and woolly hats, but not the team at Britannia Sailing Trust, they were in need of some serious cooling down inside their boat shed!
Britannia Sailing Trust was set up and registered as a charity in 2014 with the vessel being donated to the charity by her owners Vicki Samuels and her husband Haydn. Their responsibility is now is to restore her back to a seaworthy condition, and up to commercial MCA standards for passenger vessels. The charity, supported by a group of keen sailors, historians and craftsmen, is now embarking on a fundraising challenge to raise £150,000 to restore Britannia so that she can sail the seas once more. Then providing education and training opportunities for people of all ages and abilities in sailing, as well as traditional boat building skills.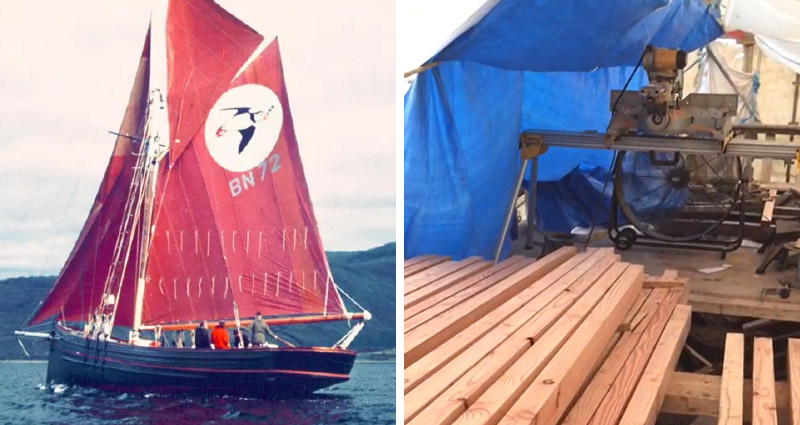 Believe it or not, boat building can make for hot work. So Vicki was on the lookout for a fan big enough to cause quite a draught. That's where the Sealey HVD30 30 inch high-velocity industrial drum fan became a very welcome addition to their workshop.
Vicki told us that she chose the fan to keep their workshop cool. "The temperature on deck is really stifling sometimes as it is so near the top of the tent. There's also have timber laid out on the deck to dry, ready to be laid on the deck, the fan will help with this too."
Britannia's temporary home is at Seckington Cross, Winkleigh, Devon with her relaunch intended for her anniversary on 10th April 2022.
More about The Britannia Sailing Trust, history of the Britannia, volunteering, learning and sponsorship opportunities can be found on their website.
Wishing the Britannia much luck for her next voyage.

Author Bio -
Debs
Content, marketing, social, graphic design and PA to an unusual small red dragon.