Sales of Sharps Bins Surge Due to Regulation Change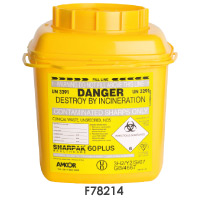 Sales of our bin for the disposal of contaminated sharp objects are up ten-fold this month following the introduction of new health and safety regulations.
The changes, which came into force on May 11, implemented a European directive to control the risks of needle stick or "sharps" injuries in the healthcare sector.
Under the Health and Safety (Sharp Instruments in Healthcare) Regulations, employers must introduce arrangements for the safe disposal of such items as well as necessary training for employees. Our Sharpak Disposable Bin, which is made of durable plastic and includes a lid as well as clear labelling, has seen a surge in sales in the last four weeks as a result.
It is vitally important that organisations that need to dispose of sharps follow the new protocol to ensure staff safety.
According to the EU Commission, an estimated one million needle injuries happen in the EU each year, with more than 100,000 in the UK.
Injuries can, in the most serious cases, result in infections to include HIV and hepatitis B or C. They can also cause physiological trauma.
Dr Peter Carter, the Royal College of Nursing's chief executive and general secretary said: "We have always believed that nurses and healthcare assistants should not have to go to work fearing that they could be exposed to serious infections."
Dean Royles, chief executive of the NHS Employers organisation added: "The NHS will implement these regulations to help improve safety for our workers and continue to highlight the importance of safe practice regarding needles and sharps."
The Sharpak Disposable Bin is available from us here at ESE Direct. Please call us for more information on 0808 163 3704.

Author Bio -
Simon
Managing Director, 1999-2015.